RACE COURSE
RACE COURSE MAP
The race course map can be downloaded from here.
Course map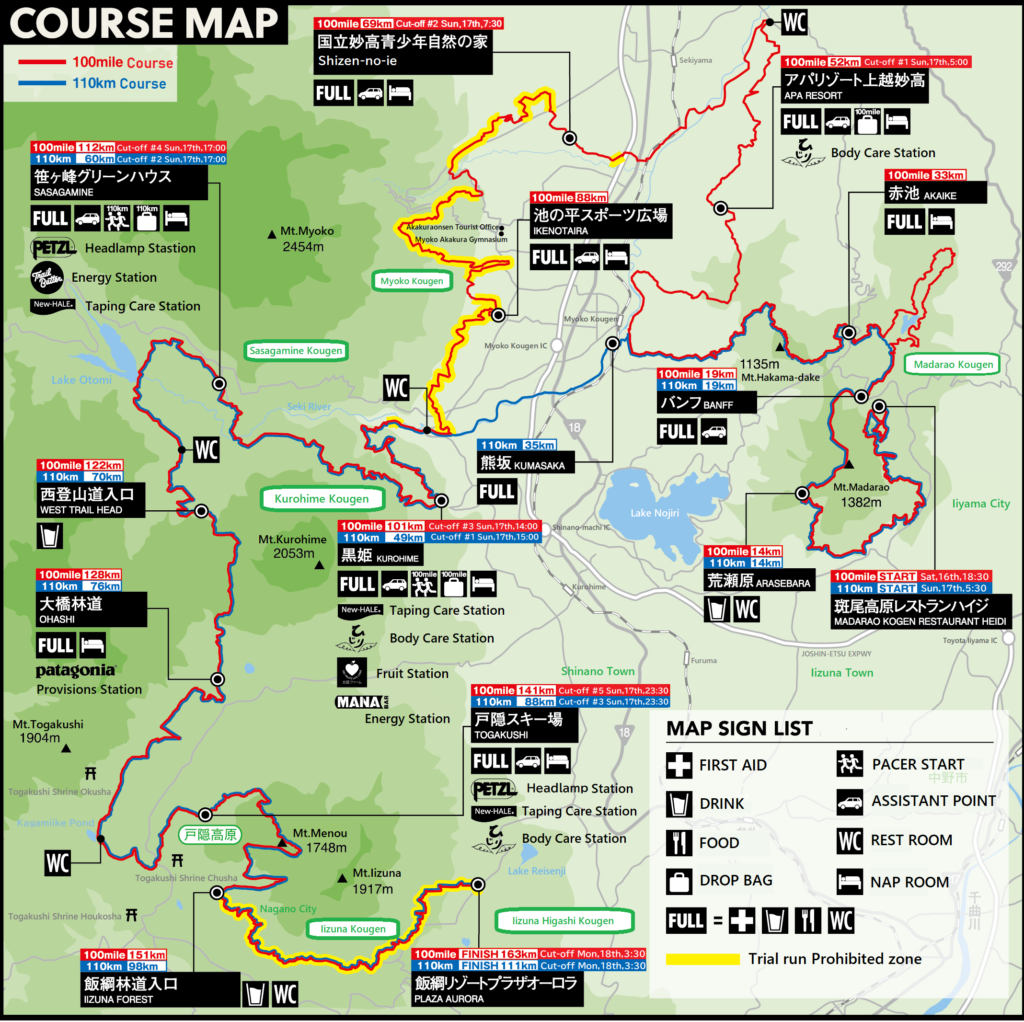 Click here
Elevation Charts

Click here
GPX data
RACE COURSE SUMMARY
1) AID STATIONS
100 miles: 9 aid stations, 3 water stations / 110km: 6 aid stations, 3 water stations
Food and drinks as well as local specialties will be available at the aid stations. There will also be points along the way where water will be available.(water station)
Names of Aid Stations (distance from start)
100mile
Banff (19km),Akaike (33km),Apa Resort (52km),Shizen-no-ie (69km),Ikenotaira (88km),
Kurohime(101km),Sasagamine(112km),
Ohashi (128km),Togakushi (141km)
110km
Banff (19km),Kumasaka (35km),Kurohime (49km),Sasagamine (60km),Ohashi (76km)
Togakushi (88km)

2) ASSISTANCE POINTS
100mile: 7 assistance points (excluding Akaike & Ohashi)
110km: 4 assistance points (excluding Kumasaka & Ohashi)
Racers can receive support from family and friends at the support areas located at the aid stations. Support crews may not enter the aid areas managed by the race and can only assist racers inside the designated support areas. There will be parking space and at some points, tables and chairs available.
*There are no supporter shuttle buses.
3) DROP BAG POINTS
100mile: 2 drop bag points (APA Resort, Kurohime)
110km: 1 drop bag point (Sasagamine)
Drop bags will be transported and given to the racer at the drop bag points. You can also leave unnecessary items(except for Mandatory gear) in your drop bag.
Drop bags will be returned to you after the race at the finish Venue.
If you were unable to retrieve your drop bag, you will be able to pick it up at the Awards Ceremony venue.
4) RACECOURSE MARKERS
The course will be marked with arrows, signs, marking tape and flashing reflector lights. In addition, there will be staff and security personnel along the route.
5) RESTROOMS
There are toilets/restrooms at the aid stations and along part of the course.