MANDATORY GEAR・RECOMMENDED GEAR
Mandatory Gear
During the race, all racers and pacers must carry with them at all times, the following mandatory gear.
Mandatory gear will be checked before racer check-in. (100mile only)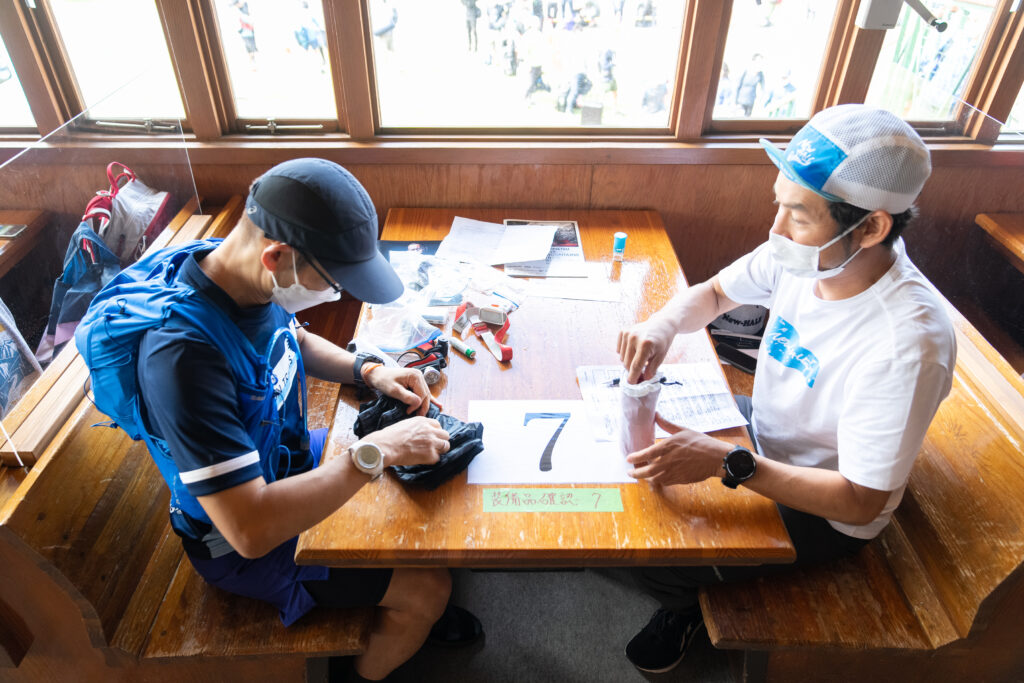 *Depending on the conditions, additional items may be added to the mandatory gear list to ensure racer
safety.
1.Racer number and timing chip given to you at racer check-in.
2.Water and food
3.Mobile phone (You must be able to receive messages on Messenger). You must keep the phone turned on during the race (until Sept 18,5:30) so that the race organizer is able to contact you to confirm your safety.
4.First aid kit (band aids, insect bite ointment, regular medicine, etc.)
5.Cup (cups will not be provided at the aid stations)
6.Poison remover
7.Survival blanket
8.Rainwear – both jacket and pants
(must be waterproof and breathable, seams must be seam sealed and the jacket must have a hood).
The rainwear must be in reasonable condition without notable damage/wear & tear.
9.Long sleeve base layer shirt (in addition to the one you are wearing during the race)
10.Two lights – with extra batteries for both.
(The lights must be bright enough to continue racing in the dark. Smartphone lights are not acceptable).Portable battery chargerare not acceptable.
11.2 or more non-woven face masks.
Recommended Gear
1.Course map, compass ,GPS watch (electronic compasses are acceptable)
2.Taping (that can also be used as a medical bandage and/or strap)
3.Warm clothing (down or fleece)
4.Gloves (with fully covered fingers)
5.Hat that covers your ears (e.g Beanie hat)
6.Medical insurance (photocopies are allowed)
7.Cash (to cover medical fees if taken to a hospital)
8.Flashing/reflector light that can be seen from the back during the night.
9.Bear bell
10.Whistle
11.Cutlery Set (Vessels, spoons, forks, etc)
12.Portable battery charger, mobile phone charger cable
13.Other equipment such as sunscreen, Vaseline, waterproof bag, waterproof shoes, etc.